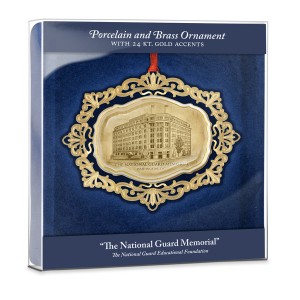 The 2nd Annual Commemorative Ornament is now available. The second edition ornament depicts the National Guard Memorial, which was dedicated in 1991.
The ornament is $20 plus $5 shipping.  To purchase, please fill out the form below.
Additionally, limited 1st Annual Commemorative Ornaments are still available.  They feature Don Troiani's iconic Heritage Painting of the First Muster.  If you are interested in ordering one of the First Muster or more than two of either ornaments, please contact Anne Armstrong directly rather than filling out the form.
All proceeds benefit NGEF.