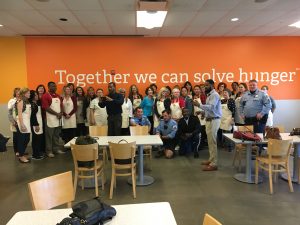 AGAUS visits the National Capital Foodbank during Conference Weekend.
This year, as in years past, the Adjutant General Association of the United States (AGAUS) held their conference at the NGAUS headquarters in Washington, DC.  The National Guard Memorial is also home to NGEF and we were delighted to escort the AGAUS Spouses around the Capital region while they were here!  On Friday, February 24th, the group of 30 participants spent several hours at the Capital Area Food Bank in Northeast Washington.  The ladies and gentlemen took part in the critically important mission of helping solve hunger in the local area.  Sponsored by the District of Columbia National Guard, the group also consisted of DC National Guardsmen and local DC Metropolitan Police Officers. 
The weekend theme focused on Presidents of the United States.  After a morning at the Food Bank, the group moved on to visit Mount Vernon, ancestral home of President George Washington.  Lunch consisted of food served in a traditional manner, evoking the rustic style of the 18th Century colonies.  Following a wonderful meal, the 30 participants enjoyed a two-hour tour of the manor house, grounds, and surrounding area.  The tour also included a laying of a ceremonial wreath at Washington's tomb.  That event became all the more meaningful, when on a walk through the Visitor's Center, we saw a photo of Prime Minister Winston Churchill and President Franklin Delano Roosevelt doing the same thing years before.  (They were in the rain.  Luckily for us, the weather was unusually temperate!)
On Saturday, February 25th, after a wonderful brunch at the Occidental Grill at the historic Willard Hotel, the group capped the trip with a visit to the National Portrait Gallery where they were able to see the Hall of Presidents one day before it closed for renovation.  Once again refreshing a friendship with George Washington, the Presidential Portraits helped remind us what a long legacy of peaceful transitions of power over which this country has presided.
The weekend was a great success, and heartfelt, warm thanks go out to everyone who participated!  We look forward to next year!