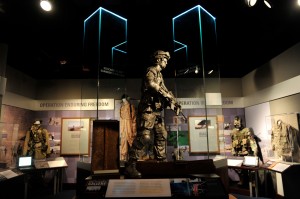 The National Guard Memorial Museum is the first and only national museum dedicated to telling the story of the National Guard. First opened as the National Guard Heritage Gallery in 1976 in time for America's bicentennial celebration, the museum originally explored the origins of the Guard through a series of artifacts and dioramas. Today, the museum covers over 375 years of Guard history, beginning with the first muster in 1636 and ending with the current foreign and domestic missions that Guardsmen carry out today. Uniforms, firearms, battle gear and other artifacts are featured throughout the exhibit space. The museum concludes with the newly renovated 9/11 Era Gallery, which focuses on how the National Guard has transformed from a strategic reserve into an operational force since the terrorist attacks in 2001.
The museum is free and open to the public 9 a.m. until 4 p.m. Monday through Friday, except for federal holidays.
We are a participant in the Blue Star Museums Initiative–a collaboration among the National Endowment for the Arts, Blue Star Families and the Defense Department–as well an active member of the American Alliance of Museums and the American Association for State and Local History.