2021 NGEF Commemorative Ornament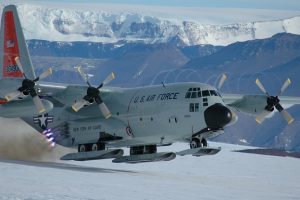 Based in Schenectady, New York, the 109th Airlift Wing, New York Air National Guard flies specially outfitted LC-130H aircraft in support of the National Science Foundation's South Pole Research program. Pictured here in 2007, the 139th Airlift Squadron Hercules takes off from Shackleton Glacier, Antarctica with the aid of Jet Assisted Takeoff (JATO) rockets indicated by the bright lights aft of the main landing gear. Staging out of Christchurch, New Zealand, one of their most famous missions was the 1999 medevac of Dr. Jerri Nielsen who was stationed at Amundsen-Scott South Pole Station. In true National Guard fashion, when not in use by the NSF, the 109th Hercules support the United States missions in Operation Enduring Freedom as well as domestic disaster relief. Order Here
8th Edition
This oil-on-canvas painting adorns the Montgomery Room inside the National Guard Memorial, named for Gillespie V. "Sonny" Montgomery (August 5, 1920 – May 12, 2006). A Mississippi Guardsman and veteran of World War II and Korea, Sonny Montgomery retired as a Major General in 1980. He served in the U.S. House of Representatives for 30 years (D-MS), during which he sponsored the Montgomery G.I. Bill. This educational benefit remains a widely used resource for Guardsmen and their families. Throughout his career, Sonny was a staunch supporter of the National Guard Association of the United States and advocated for the Guard on Capitol Hill. Order Here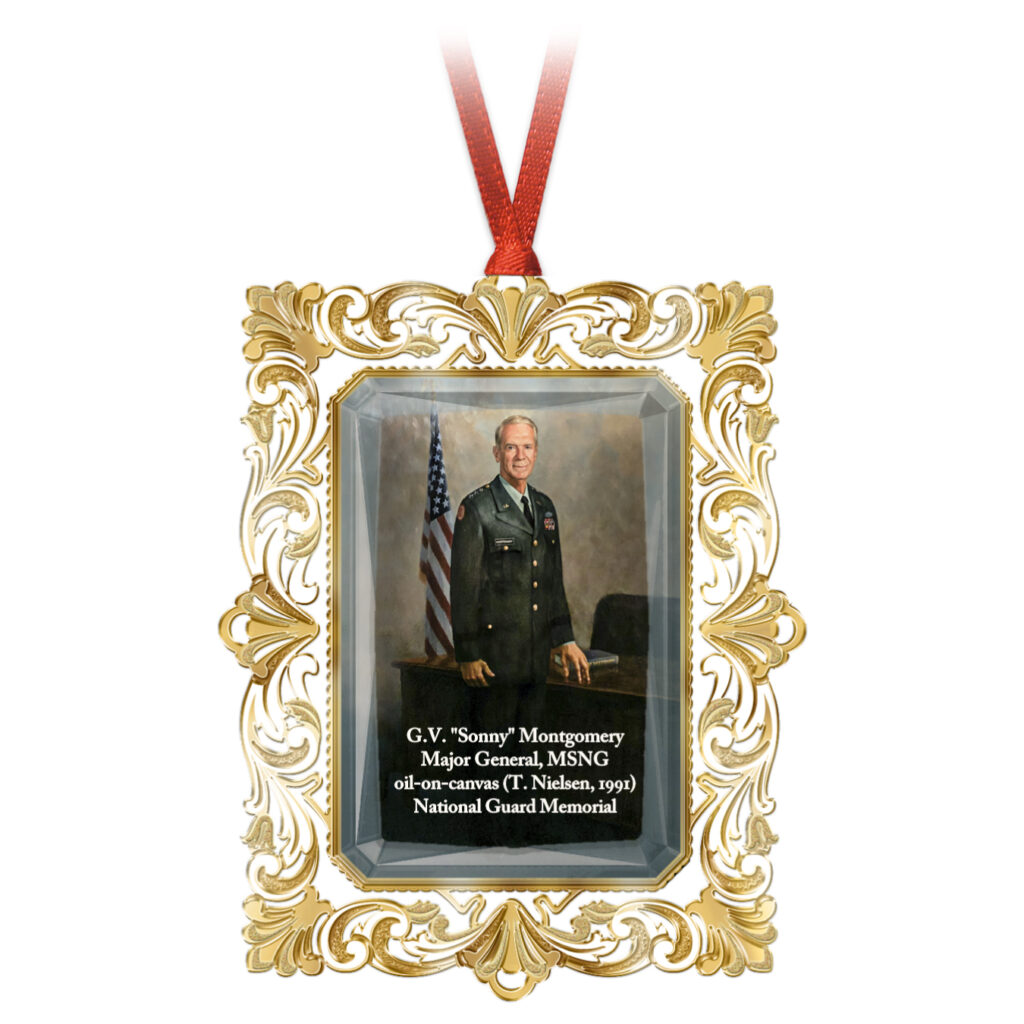 7th Edition
Featuring the National Guard Memorial's prominent 6′ bronze Minuteman statue, which now stands ready in the memorial's entry lobby. The National Guard Association of the United States commissioned renowned sculptor Evangelos Frudakis to design the statue in 1991 at the cost of $97,000. Now our prestigious monument is featured on our seventh edition commemorative ornament. Order Here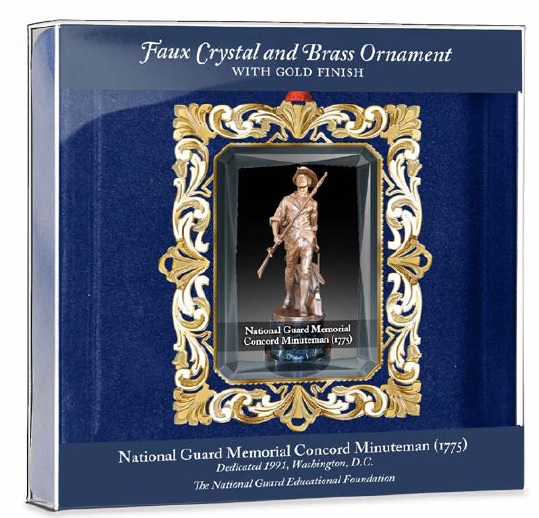 6th Edition
Depicting the National Guard Association of the United States' tribute to Delaware's part in World War One and the Centennial of the Armistice in 1918, this elegant symbol is sixth in a series of commemorative ornaments offered by the National Guard Educational Foundation. Order Here.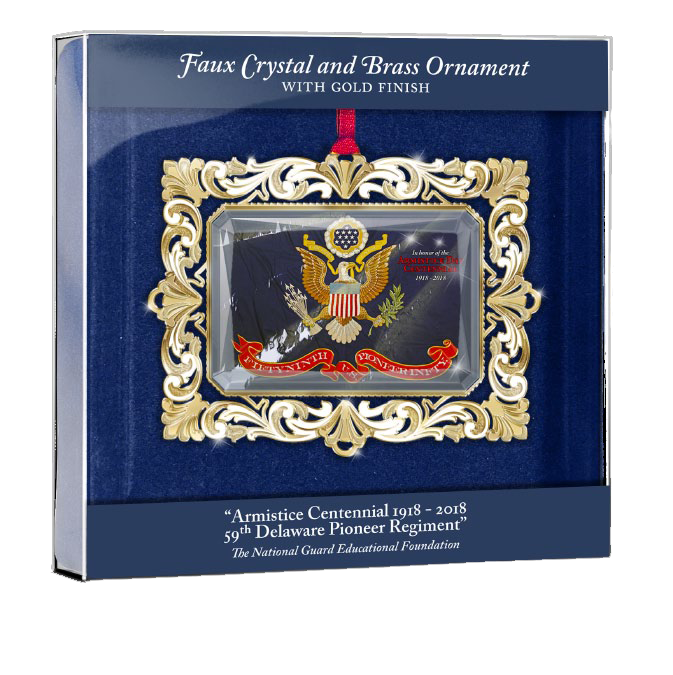 5th Edition
The 5th Annual Commemorative Ornament pays tribute to the 1st Aero Company, New York National Guard – the first unit to be federalized and called into service in World War I.Order Here.
4th Edition
The 4th Annual Commemorative Ornament honors the National Guard's participation in D-Day, June 6th 1944, featuring the NGAUS monument on Normandy Beach.Order Here.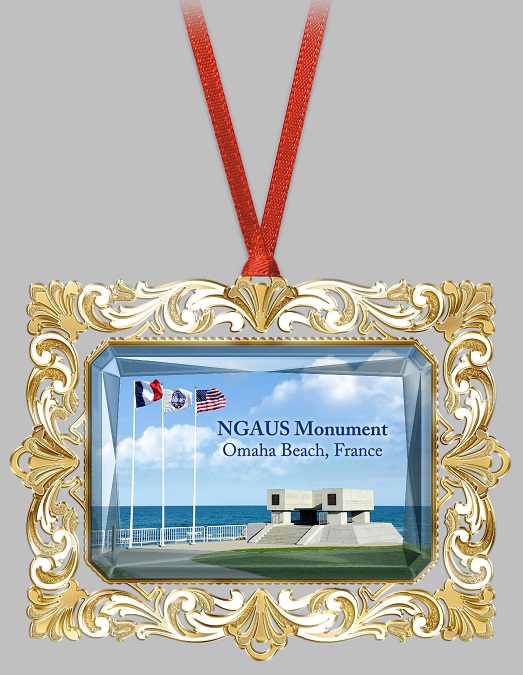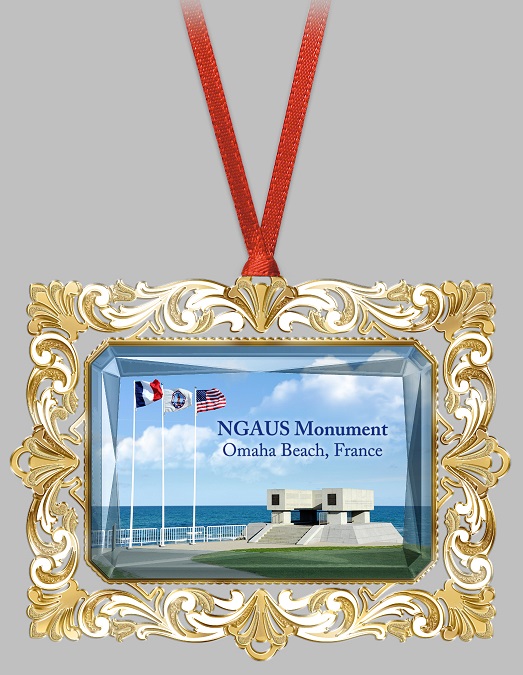 3rd Edition
The third edition ornament depicts a guardsman returning home from deployment. This is NGEF's celebration of the Guard family, recognizing all that you do!Order Here.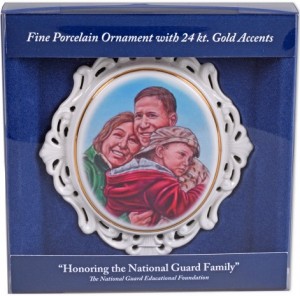 2nd Edition
The second edition ornament depicts the National Guard Memorial, which was dedicated in 1991.Order Here.
Dr. Jill Biden places the National Guard Memorial Ornament on an Armed Forces Tree in the Naval Observatory. Son, Major Beau Biden, serves in the Delaware National Guard JAG corps and deployed to Iraq from 2008 to 2009. (Scroll to bottom of page, please.) NB: We are sad to report that on May 30, 2015, Maj. Beau Biden succumbed to brain cancer. We offer our condolences to the Biden family.
The ornament is $20 plus $5 shipping. To purchase, please fill out the form below.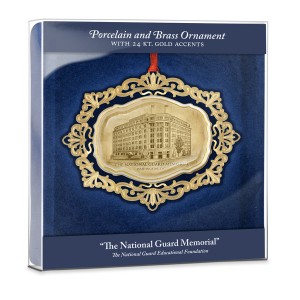 1st Edition
Additionally, limited 1st Annual Commemorative Ornaments are still available. They feature Don Troiani's iconic Heritage Painting of the First Muster.Order Here.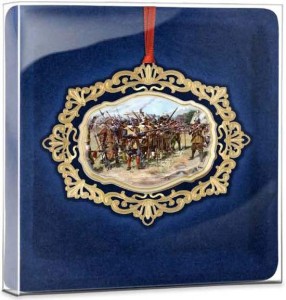 All proceeds benefit NGEF. If you are interested in ordering more than two ornaments, please contact Kevin Brown directly rather than filling out the form.