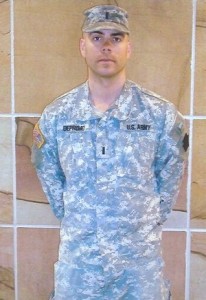 First Lieutenant Jeffrey DePrimo served with the Pennsylvania Army National Guard since 2003. 1LT DePrimo was born in Wilkes-Barre, Pennsylvania. He graduated from Seton Catholic High School in 1991 and earned a Bachelor's Degree of Music from Maywood University, graduating Magna Cum Laude. In civilian life, he was an expert car detailer at the Ford dealership in Exeter and a talented musician.
He joined the 1st Battalion 109th Infantry's Delta Company located in West Pittston in 2003, and was commissioned as a 2LT on 20 August 2005. He was promoted to the rank of 1LT on 20 August 2007. 1LT DePrimo's awards and decorations include the Bronze Star Medal, the Purple Heart, the Army Achievement Medal, the Combat Action Badge, the National Defense Service Medal, the Afghanistan Campaign Medal with Bronze Service Star, the Global War on Terrorism Service Medal, the Armed Forces Reserve Medal with "M" Device, the Army Service Ribbon, the Overseas Service Ribbon, the NATO Medal, the Pennsylvania Meritorious Service Medal, the Pennsylvania Service Ribbon, and the GEN T.J. Stewart Medal.
1LT DePrimo mobilized on December 3, 2007, for Operation Enduring Freedom with Bravo Company 3/103rd Battalion Armor Regiment. He was killed in Action on May 20, 2008, near the town of Ghazni, Afghanistan, while serving as the security force platoon leader for a Provincial Reconstruction Team near Ghazni. Lt. Deprimo is the fourth Pennsylvania National Guard soldier fatally injured in Afghanistan the third officer to be killed in action in Iraq and Afganistan.