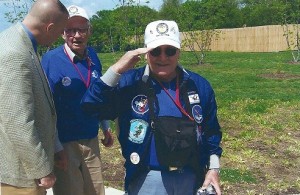 Lt. Col. Dutko was born 28 February 1923 in Trenton, NJ. He attended Columbus Elementary, Junior High No. I and Trenton High School, graduating in 1941 as the Outstanding Commercial Student. He later attended Pensacola (FL) Junior College and was awarded an Associate of Arts Degree in 1982. His military education includes Squadron Officers Course, 1957.
Col. Dutko's military career began 30 March 1942 when he was selected for the U. S. Army Air Forces Aviation Cadet Program. After Preflight at San Antonio (TX) Aviation Cadet Center, Primary at Spartan AAFTD, Muskogee, OK, Basic at Enid AAF, OK, and Single Engine Advanced at Aloe AAF, Victoria, TX, he was awarded pilot's wings and commissioned as a 2d Lt., ORC, USAAC. After completion of BT-1 3 Instructors' Course, he was assigned to Strother AAF, Winfield, KS where he instructed until 1944. He was selected for a fighter pilot assignment and was assigned to the 32d FS, XXVI Fighter Command, Panama Canal Zone in 1945 where he flew P-39s and P-38s. He was discharged in March 1946 at Ft. Monmouth, NJ and returned to civilian pursuits.
After serving with the 157th Composite Squadron, USAF Reserve until 1949, he was part of the initial cadre of pilots assigned to the 141 st FBS, NJANG, McGuire AFB, NJ. He flew with this organization until February 1951 when the unit was recalled to active duty. His assignments included: Chief, Liaison Supply, 108th FBW, Turner AFB, GA (1951); Supply Officer, 149th FIBS, Godman AAF, Ft. Knox, KY (1952); Supply Off icer, 52d Air Rescue Squadron, Harmon AB, Newfoundland, (1952-1953); MPO, Base Supply, Greenville AFB, MS (1953-1955); Chief, Aircraft Supply Division, Directorate of Materiel, Hq. FTAF, Waco, TX and Hq. ATC, Randolph AFB, TX (1955-1958); Chief, Contractor Support Division, Hq. SAMAP, Clark AB, Philippines (1958-1959); Production Officer, Procurement Directorate, Hq. NAMAP, Tachikawa AB, Japan (1960-1961); Joint Staff Assignment, Hq. Army Tank Automotive Command, Detroit, M1 as a Logistics and Procurement Officer, (1961-1967).
In 1967 he was assigned to the 361st Tactical Electronic Warfare Squadron, Nha Trang AFB, RVIN until June 1968. He flew 123 electronic reconnaissance missions in EC-47s, amassing over 760 flying hours. He was awarded the Distinguished Flying Cross and six Air Medals for his efforts. Upon his return to the ZI in 1968, he was assigned to Hq. AFLC Inspector General, first as Chief, Administrative Investigation Division, and later as a Base Procurement Inspector until his retirement in June 1972. He was rated a Command Pilot in 1958 and achieved over 5,800 flying hours. His military decorations include: Distinguished Flying Cross, Air Medal with silver oak leaf cluster, Presidential Unit Citation, Outstanding Unit Award, Good Conduct Medal, American Campaign Ribbon, WWII Victory Medal, National Defense Services Medal, Viet Nam Service Medal, AF Longevity Ribbon, Air Force Reserve Medal, Small Arms Expert Medal, and Republic of Viet Nam Campaign Medal.
After retirement in 1972, Col. Dutko founded the Pilot Class 43-D Association, a fraternity of graduates of Pilot Class 43D. 9,896 cadets began training in August 1942, 5,275 graduated in April, 1943 from 29 flying schools located throughout the U. S. Notable graduates include: Donald "Deke" Slayton, Astronaut, Jack Palance and William Conrad, movie stars, and B/G Wiltz P. "Flash" Segura, Fighter Pilot Ace. Three members earned Medals of Honor: Edward S. Michael and William R. Lawley in WWII and Joe Jackson in the Viet Nam War. After serving as a Contracting Officer at DCSC, Columbus, OH (1972-1974), Procurement Analyst at the 2750th ABW and Hq. AFLC, Wright-Patterson AFB, OH (1974-1979), he 'retired' again. He moved to Florida where he and his wife, Phyllis, reside. A daughter (Roxie), granddaughter (Paige), and son-in-law Dr. John C. Zaluski reside close by. A son Francis J., Jr. PHD, wife Angela, sons Brian and Chris, and daughter Rachel reside near Philadelphia, PA.