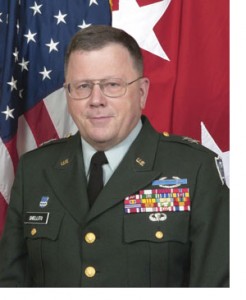 Major General Larry W. Shellito assumed duties as the Adjutant General of the Minnesota National Guard on November 3, 2003.
The General's military service began in 1968 when he enlisted in the active-duty Army. Prior to serving as the Adjutant General of Minnesota, Major General Shellito served as the Division Commander of the 34th Infantry Division, Assistant Division Commander-Operations, Assistant Adjutant General-Plans and Operations at Headquarters, State Area Command and commander for Troop Command, Roseville, Minnesota.
EDUCATION:
1972 Moorhead State University – BS – Distributive Education
1979 Moorhead State University – MS-Business Education
1984 Command and General Staff College
1992 Defense Strategy Course
1994 U.S. Army War College
1998 University of Minnesota – PhD – Education
ASSIGNMENTS:
1. Nov 69 – Feb 70, Assistant S2/S3, HQ 5th Student Battalion, Candidate Brigade, Fort Benning Georgia.
2. Apr 70 – Mar 71, Mobile Advisory Team Senior Advisor, Vietnam
3. Mar 71 – Jan 73, USAR Control Group
4. Jan 73 – Apr 74, Rifle Platoon Leader, Company A, 2nd Battalion 136th Infantry, Minnesota Army National Guard
5. Apr 74 – Dec 77, Company Commander, Company A, 2nd Battalion, 136th Infantry, Minnesota Army National Guard
6. Jan 78 – Jul 79, S-3 Air, HHC 2nd Battalion, 136th Infantry, Minnesota Army National Guard
7. Jul 79 – Jan 80, Company Commander, Support Company, 2nd Battalion, 136th Infantry, Minnesota Army National Guard
8. Jan 80 – Oct 81, S-4, HHC 2nd Battalion 136th Infantry, Minnesota Army National Guard
9. Oct 81 – Aug 83, S-3, HHC 1st Battalion, 136th Infantry, Minnesota Army National Guard
10. Aug 83 – Jun 84, S-3, HHC 2nd Battalion, 136th Infantry, Minnesota Army National Guard
11. Jun 84 – Jul 85, Executive Officer, HHC 1st Battalion, 136th Infantry, Minnesota Army National Guard
12. Aug 85 – Aug 86, Executive Officer, HHC 2nd Battalion, 136th Infantry, Minnesota Army National Guard
13. Aug 86 – Oct 86, S-3, HHC 1st Brigade, 47th Infantry Division, Minnesota Army National Guard
14. Nov 86 – Aug 87, Assistant G-3, HHC 4th Infantry Division, Minnesota Army National Guard
15. Aug 87 – Aug 89, Battalion Commander, HHC 2nd Battalion, 136th Infantry, Minnesota Army National Guard
16. Sep 89 – Mar 92, G-3, HHC 47th Infantry Division, Minnesota Army National Guard
17. Mar 92 – Sep 94, Brigade Commander, HHC 1st Brigade, 34th Infantry Division, Minnesota Army National Guard
18. Oct 94 – Apr 95, Personnel Manager, State Area Command, Minnesota Army National Guard
19. Apr 95 – Aug 97, Commander, 84th Troop Command, Minnesota Army National Guard
20. Aug 97 – Jan 98, Assistant Adjutant General-Operations, State Area Command, Minnesota Army National Guard
21. Jan 98 – Sep 00, Assistant Division Commander-Operations, 34th Infantry Division, Minnesota Army National Guard
22. Sep 00 – Sep 04, Division Commander, 34th Infantry Division, Minnesota Army National Guard
23. Nov 03 – Present, Adjutant General, Minnesota National Guard