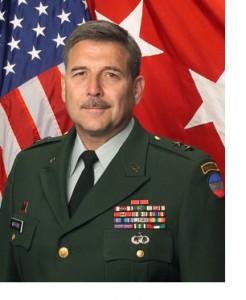 Major General William D. Wofford currently serves as the Adjutant General of Arkansas National Guard. He serves as a member of the Governor's Cabinet and Commander of the Military Department of Arkansas. He is responsible for all military administration transactions between the United States and the State to include personnel, finance, and logistics. He is responsible for training of personnel to accomplish both the state and federal missions of the National Guard, and performs all other duties pertaining to his office as prescribed by law.
Major General Wofford was commissioned a Second Lieutenant, Field Artillery, upon graduation from the Reserve Officer Training Corps program at Arkansas Tech University, Russellville, Arkansas, on May 15, 1971. After completion of the Field Artillery Officer Basic Course at Fort Sill, Oklahoma, Major General Wofford served on active duty with the 82nd Airborne Division and the 1st Armored Division until he returned to Arkansas where he joined the Arkansas Army National Guard in December 1975.
Major General Wofford served in a variety of command and staff positions, including Commander, 5th Battalion 206th Field Artillery and brigade-level command of 87th Troop Command. During Operation Desert Storm he served as Commander, 2nd Battalion 142nd Field Artillery, an eight-inch self-propelled artillery battalion. He served on The Adjutant General's staff as the Plans, Operations and Training Officer (G-3/5/7), Chief of Staff for the Arkansas Army National Guard, and as Deputy STARC Commander/Commander, Arkansas Army National Guard. Major General Wofford served as the Deputy Commanding General (Reserve Component), U.S. Army Forces Command, Fort McPherson, Georgia. On April 28, 2005, he received federal recognition as Major General (Line).
EDUCATION:
1971 Arkansas Tech University – BA Degree
1994 Army War College
ASSIGNMENTS:
1. Feb 72 – Jun 73, Forward Observer, later Fire Direction Officer, Battery B, 2nd Battalion (Airborne), 321st Field Artillery, 82nd Airborne Division, Fort Bragg, North Carolina
2. Jun 73 – Mar 74, Executive Officer, Battery C, 2nd Battalion (Airborne), 321st Field Artillery,
82nd Airborne Division, Fort Bragg, North Carolina
3. Mar 74 – Aug 74, Liaison Officer, Headquarters and Service Battery, 2nd Battalion (Airborne), 321st Field Artillery, 82nd Airborne Division, Fort Bragg, North Carolina
4. Aug 74 – Jun 75, Battery Commander, Headquarters and Headquarters Battery, 6th Battalion, 14th Field Artillery, 1st Armored Division, Zirndorf, Germany, US Army Europe
5. Jun 75 – Dec 75, US Army Control Group
6. Dec 75 – Apr 76, Operations and Training Staff Officer, then Tactical Officer, Arkansas Military Academy, Headquarters and Headquarters Detachment, Camp Robinson, Arkansas
7. Apr 76 – Mar 78, Reconnaissance and Survey Officer, Headquarters and Headquarters Battery, 1st Battalion, 142nd Field Artillery, Harrison, Arkansas
8. Mar 78 – Aug 79, Battalion Intelligence Officer (S-2), 1st Battalion, 142nd Field Artillery, Harrison, Arkansas
9. Aug 79 – Aug 81, Battery Commander, Headquarters and Headquarters Battery, 1st Battalion, 142nd Field Artillery, Harrison, Arkansas
10. Aug 81 – Oct 83, Battalion Fire Direction Officer, 1st Battalion, 142nd Field Artillery, Harrison, Arkansas
11. Oct 83 – Jul 87, Battalion Executive Officer, 2nd Battalion, 142nd Field Artillery, Fort Smith, Arkansas
12. Jul 87 – Nov 87, Military Support Plans Officer, State Area Command (STARC (-)), Camp Robinson, Arkansas
13. Nov 87 – Jan 88, Plans and Operations Officer, State Area Command (STARC (-)), Camp Robinson, Arkansas
14. Jan 88 – Jun 89, Chief, Plans and Operations Division, State Area Command (STARC (-)), Camp Robinson, Arkansas
15. Jun 89 – Aug 89, Chief, Training Division, State Area Command (STARC(-)), Camp Robinson, Arkansas
16. Aug 89 – Nov 90, Battalion Commander, 5th Battalion, 206th Field Artillery, 39th Infantry Brigade (Separate), West Memphis, Arkansas
17. Nov 90 – Jun 91, Battalion Commander, 2nd Battalion, 142nd Field Artillery, VII Corps Artillery (Operation Desert Storm – Saudi Arabia, Iraq, Kuwait)
18. Jun 91 – Jul 91, Battalion Commander, 2nd Battalion, 142d Field Artillery, Fort Smith, Arkansas
19. Jul 91 – May 92, Executive Officer, Troop Command (Detachment 1, State Area Command), Camp Robinson, Arkansas
20. May 92 – Aug 92, Chief, Training Division, State Area Command (STARC (-)), Camp Robinson, Arkansas
21. Aug 92 – Apr 94, Commander, Troop Command (Detachment 1, State Area Command), Camp Robinson, Arkansas
22. Apr 94 – Oct 97, Director, Plans, Operations, Training, and Military Support (G-3), State Area Command (STARC (-)), Camp Robinson, Arkansas
23. Oct 97 – Jan 01, Chief of Staff, State Area Command (STARC (-)), Camp Robinson, Arkansas
24. Jan 01 – Oct 02, Deputy Commander, State Area Command (STARC (-)), Arkansas Army National Guard, Camp Robinson, Arkansas
25. Oct 02 – Apr 03, (TTAD) Director of Mobilization Forces, US Army Forces Command, Fort McPherson, Georgia (Operation Enduring Freedom and Operation Noble Eagle)
26. Apr 03 – Sep 03, Deputy Commander, State Area Command (STARC (-)), Arkansas Army National Guard, Camp Robinson, Arkansas
27. Oct 03 – Jan 04, Commander, Arkansas Army National Guard/Joint Force Land Component Commander, Joint Force Headquarters – Arkansas, Camp Robinson, Arkansas
28. Feb 04 – Jul 04, (TTAD) Deputy Director, Operations, Readiness and Mobilization (G-3), Headquarters, Department of the Army, Pentagon, Washington, DC
29. Aug 04 – Feb 06, Deputy Commanding General (Reserve Component), US Army Forces Command, Fort McPherson, Georgia
30. Feb 06 – Present, The Adjutant General, Joint Force Headquarters – Arkansas, Camp Robinson, Arkansas