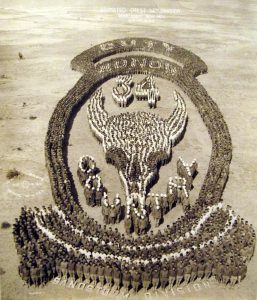 Innovations in National Guard Officership in WWI
At the onset of World War I, military officership was formed around ideas of education, class, and noblesse oblige.  Officers in both the National Guard and Regular Army were usually selected through personal or political connections and trained through apprenticeship.  Increasing the size of the officer corps by 20,000 men in two years in preparation for World War I forced the army to develop a system of standardized officer training and selection which more closely mirrors today's ideals of meritocracy—a chance for army regulars, guardsmen and draftees to test their methods of selection and training on the battlefield.
The largest source of officer commissions in World War I by far was through the Officer Training Camps, or OTCs. Incredibly, 74% of Army officers in WWI* were commissioned with just 90 days of standardized training.  National Guard officers were the next largest group, making up 9% of officer ranks, while regular officers comprised just 5%. Even with the Dick Act of 1903, which pushed for professionalization in the guard, federalizing National Guard officers and graduates of "Plattsburg" military training camps had failed to produce the consistent quality or quantity of officers needed for rapid growth.  The OTCs, revolutionary in their scale, were established with only 14-15 weeks of preparation time to establish a system of screening applicants, building camp infrastructure, developing training regimes and assigning the newly commissioned officers to their divisions before the draftees arrived.  One of largest problems in growing the army so quickly at the outset of the declaration of war was assigning the current regular army and National Guard officers to greatest effect. These first cadres were made of a combination of regular army and National Guard officers.
While college graduates were preferred, the army relaxed its requirement for college attendance, placing more discretion in the OTCs in selecting candidates who had shown leadership in their civilian careers. In selection, the army turned to the nascent felt of psychology and intelligence testing, which has progressed considerably but never been abandoned by the army since.  These citizen soldiers in the initial classes, drawn from volunteers from colleges, businesses and local communities proved to be some of the most educated, intelligent and motivated officers the army had seen.
Mobilized regular army, National Guard and National Army units all faced an overwhelming influx of personnel transfers and unit re-designations leading up to their deployments.  Regular army and OTC officers were often transferred into National Guard units, and experienced soldiers and NCOs were transferred into new divisions and replaced by draftees.  Popular wisdom passed on to new officers in the OTC system was that the National Guard style of leadership was chummy and often faltered into fraternization.  Regular Army Officers complained that the National Guard units held close ties that undermined discipline when officers were reluctant to interfere with social and business relationships after the war.  However, the same relationships were said to motivate officers, since a poor performance as an officer would mire their personal and professional lives in the communities.  It's unclear how much National Guard officers were actually different, but it's important to note that the influx of new draftees and war-motivated volunteers were also different.  It was a 'citizen army' now and a culture which encouraged honest discussion between officer and enlisted, now a common ideal in units, was dubious to the West Point and OTC lieutenants and hard-boiled sergeants of the time.
Considering that the Army began the war with only 17,00 Regular Army, National Guard and Army Reserve Officers, the fact that the first two OTC sessions graduated 44,578 new officers was no small feat.  Moreover, it represented the first time in U.S. Army history where the majority of officers had standardized training. The National Guard officers of the era supplied knowledge and experience to the OTC program and in the battlefield, and helped to develop a more egalitarian form of leadership in the army.  Meanwhile, the army's push for equal opportunity in selection and training paid dividends back into the National Guard as it set the precedent in officer selection and training we see in our modern National Guard.
Sources:
Faulkner, Richard.  School of Hard Knocks: Combat Leadership in the American Expeditionary Forces.  College Station, Texas A&M Press, 2012.
Doubler, Michael. I Am the Guard: A History of the Army National Guard 1636-2000. Washington, Government Printing Office, 2001.
*this excludes direct commissions for fields such as medical, dental and chaplain.  Overall, 48% of total officers commissioned through OTCs.
About the author:  Miranda Summers Lowe is a captain in the DC National Guard.  She is currently serving on the OEF Study Group at the Army Center of Military History.