The National Guard Educational Foundation does more than manage a Museum, Library, and Archive!  Along with hosting an Army Ten-Miler Team, an annual Golf Tournament, and two scholarships for the benefit of National Guard soldiers and airmen, NGEF staff supports the Adjutant General Association of the United States (AGAUS) during their annual conferences.  This year, on February 21st and 22nd, NGEF took a group of 26 Adjutant General (TAG) spouses on tours of the Washington, DC, and the local area.  The theme was "The Art of a Nation".
Despite blustery wind and light rain, the group had a wonderful time viewing the Renwick Art Museum and the Torpedo Factory.  On Sunday, we walked from Old Ebbitt Grill on 15th St. NW, past the White House and Lafayette Park, to visit the Renwick Gallery which is part of the Smithsonian Art consortium.  At the Renwick, we saw the Rainbow Room, the Bug Room, and an articulated tree sculpture.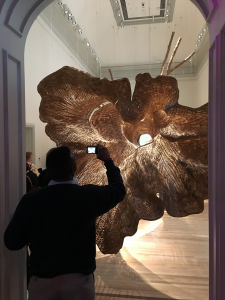 The next day, the group went to The Torpedo Factory in Alexandria, VA.  A functional torpedo factory built in the 1940s, the warehouse is now an artist colony.  Once inside, folks can visit separate artists, watch them at work, and view their own galleries one at a time.  Almost all of the artists in the Torpedo Factory are professionals and sell their work on the premises.
The Torpedo Factory is home to The Washington Art League which has existed for over 60 years.  They have developed a program called IMPACT devoted to military members who are returning from OEF and OIF with traumatic medical conditions.  In particular, the soldiers suffer from multiple amputations and PTSD.  The recovering patients get an opportunity to use art therapy and through this program have a chance to exhibit their work.  It was very gratifying to see such a successful program helping our wounded veterans.
The event weekend was a great success and the TAG Spouse group had an opportunity to see artwork around the city, see the tribute park to the Marquis de Lafayette, and experience the art community's contribution to helping our soldiers recover from the ravages of war.
We'll do it again next year and are looking forward to it!