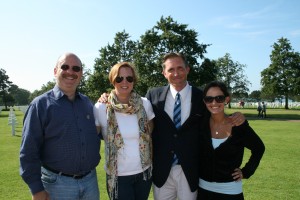 I was part of a small delegation that was sent last month to Normandy, France, by the National Guard Educational Foundation. It was my first time seeing the National Guard Monument which was dedicated by NGAUS on June 6, 1969, to pay tribute to the Guardsmen who fought in France in World War I and World War II. The monument, located in the French village of Vierville-sur-Mer, overlooks Omaha Beach, the site of the bloodiest action on June 6, 1944, when the Allies invaded Europe.
Our delegation was sent to begin the planning and execution stages of the official recognition for the 70th anniversary of D-Day. We held a flag-raising ceremony with the mayor of Vierville-sur-Mer, Antoine de Bellaigue, and approximately 50 local citizens.
Rich, Anne, Alan, and Sarah at the American Cemetery in Coleville-sur-Mer, France.Rich Goldberg, CEO of R2 Associates, LLC, and a member of the NGEF board of directors, was on hand to ensure that the National Guard Monument was properly kitted out with the American flag, the National Guard flag and the French flag, as well as a bouquet of flowers. The flags were generously donated by Annin Flagmakers and will be replaced free of charge, in perpetuity. Capt. Sarah N. Reich of the Tennessee Air National Guard ensured that all proper protocol was followed. I was there to organize the entire process, as well as to evaluate the condition of the monument for a report to the NGEF board.
We also visited the American Cemetery at Coleville-sur-Mer to pay our respects to the soldiers of the 29th Infantry Division who are buried there. Alan Amelinckx of the American Battle Monuments Commission, the organization that maintains American military cemeteries and monuments around the globe, including the National Guard Monument, escorted us as we followed a group of American students who had selected various soldiers to honor, including two Guardsmen, Pvt. Bedford Hoback of Virginia and Private Jordan Krummer of California. It was quite moving to see these young adults identify the names among the rows of white crosses and Stars of David and read aloud biographical essays they had researched and written about the soldiers. We watched them plant American and French flags at the grave markers of each one.
The trip was a whirlwind and the team was able to accomplish a lot of mission planning for next year while getting a good sense of what maintenance the National Guard Monument has and still needs.
Although there is plenty to suggest and recommend, the monument is in great shape and is a tremendous, moving reminder of the brave sacrifices made by National Guardsmen in the service of their states, the nation and the world.