INTERN EXHIBIT
On Wednesday, December 7th, National Guard Museum Intern, Fall Semester, 2016, Heather Glady opened her exhibit on "1968 District of Columbia Army National Guard Riot Gear".  Her goal is twofold — first to demonstrate the growing significance of the Total Force "concept".  Total Force was yet to be realized as a policy until four years later in 1973.  Secondly, she wanted to tie our collection to an exhibit NGEF and the Museum staff helped coordinate with the DC National Guard at the Victoria and Albert Museum in London, England.  For their exhibit, "You Say You Want a Revolution", the DC Guard and NGEF have an entire 1968 uniform on loan through February, 2017.  Heather's exhibit here may be considered a small sister show.
On display the visitor can admire clearly written narratives placed next to an M-1 Garand bayonet, a canteen, a combat M-1 helmet and liner, and an M9A1 gas mask.  This equipment had use that spanned several decades of conflict in good condition and utility.  The adage, "If it ain't broke, don't fix it" comes to mind.
The artifacts will be on display during normal Museum hours through May, 2017.
Artifact of the Week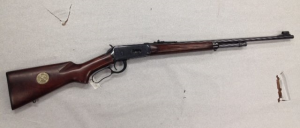 Commemorative Rifle
Winchester-Western and the National Rifle Association presented this commemorative Model 1894 Winchester rifle to the National Guard for the NRA's centennial in 1971. "NRA 1871 1971" is engraved on a metal near the bolt. The rifle also has a silver plate explaining the gift on one side of the butt of the gun and a metal copy of the NRA's seal on the other side of the butt.
The Artifact of the Week program was initiated by NGEF in 2015.  The artifact and description can be seen here, on Twitter, on Facebook, and in the NGAUS Washington Report which is issued by email every Tuesday.  All artifacts are on loan or owned by NGEF and the National Guard Memorial Museum collection.