The Citizen-Solider in WWII Gallery is open to the public.  Read the National Guard Magazine October 2014 article! 
Read more about the gallery renovation in The Washington Report!
New Intern Exhibit, April, 2015
The National Guard Memorial Museum revealed its newest temporary exhibit. Titled "Shot at Sunrise, Gassed at Night: The National Guard in WWI", the exhibit features never before seen pieces of the museum's collection pertaining to World War I. The objects represent the two most defining features of World War I, trench warfare and gas attacks.
Some objects on display include:
• Gaiters, WWI
Trench foot was a common affliction caused by prolonged exposure of the feet to damp/cold conditions. The effects of trench foot range from slight numbness to severe gangrene requiring amputation. To keep their feet dry, soldiers wore gaiters (protective leggings) to keep mud and snow from entering the top of their boots.
• Letter from 2nd Lieutenant William Lander (1918)
In this letter home, William Lander, 2nd Lieutenant of the 107th Infantry Unit, writes how the Germans ("Jerry's") are "beginning to cry that gas and aerial raids are barbarous" and that on his last tour they "threw everything but the trench" at the Germans.
• "The Gas Attack" Newspaper
In 1916 New York's National Guard was stationed on the Mexican border. When WWI broke out they became New York's 27th Infantry Division and changed the name of their training camp newspaper from The Rio Grande Rattler to the more topical The Gas Attack.
This exhibit was written and designed by the museum's spring 2015 intern, Sara Halpert. Sara will graduate with her Masters degree in Museum Studies from George Washington University next month. She aspires to be a museum curator and is currently working as a Museum Assistant at the Sewall-Belmont House and Museum while looking for a full-time curatorial position. She is very grateful for the experiences and opportunities she received while interning at the National Guard Memorial Museum.
Noteworthy Donations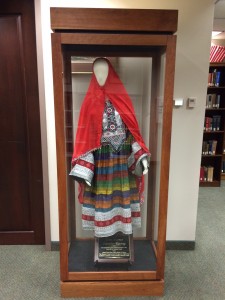 Several months ago, LTC Cathy Van Bree of the Indiana National Guard contacted the National Guard Memorial Museum with a donation in hand. Our longtime sponsor, Panther Racing had received a beautiful Afghan wedding dress which was in need of a home. We were delighted to welcome the piece as a great addition to our permanent collection representing the modern Guard. The wedding dress comes accompanied with a plaque which reads,
"Traditional Afghan "NIKAH" Wedding Dress, Presented to John Barns, Panther Racing, for Outstanding and Dedicated Service to the Army and Air National Guard from Home Town Hero, Major Bobbi Jo Mayes, The Women's Empowerment Program in Afghanistan and the Soldiers and Airmen of the Kentucky National Guard."
She stands in the National Guard Memorial Library and is a welcome part of the ongoing story of the National Guard in the twenty first century.